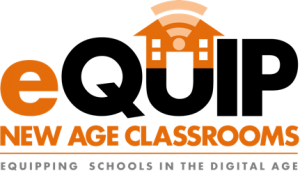 In 2000, 45K K-12 students took an online course in the US.  In 2009 enrollment grew to over 3M.  By 2019, it is estimated that 50% of all courses will be delivered online.
Is your school prepared to meet your student's needs for digital learning?  Does your strategic plan, your Vision and Mission, guide your decisions around digital learning?  If not, and you're ready to transform your classrooms into "New Age Classrooms," eQUIP at BLaST IU 17 can help.
What is eQUIP New Age Classrooms?
BLaST IU 17 is happy to announce the newest service within eQUIP.  If you're seeking models for Blended Learning, Hybrid Learning, if you're considering the value of Flipped Classrooms or maybe you just need to demonstrate program alignment to standards using a Learning Management System, eQUIP New Age Classrooms can help.
eQUIP New Age Classrooms is a system of strategic planning, stakeholder engagement, instructional design, professional development, coaching and technology services customized to guide schools and districts through the infusion of digital learning into classrooms.

Is eQUIP New Age Classroom unique to IU 17?
Over the last several years, IU 17's Vision of 250,000 Thinkers has driven the staff to practice and share the power of systems thinking.  Systems Thinking led to the creation eQUIP Academy Services (a sister service to eQUIP New Age Classrooms), a leader in online educational programming for school-based eLearning Academies. IU 17's experience and innovation in instructional coaching and classroom technology integration already shapes countless classrooms, schools and districts.  By combining existing services and staff with the latest research and creating new, innovative models, IU 17's launched eQUIP New Age Classrooms to provides an affordable, focused yet customizable support service for schools and districts looking to build digitally infused classrooms.
How does it work?
Over a 2-3 year time-frame, your district, or select schools within your district, will be guided through a series of 20 hands-on sessions.  Each session is built around our unique Explore and Create planning model.  Teams will explore topics such as Vision and Mission, Leadership and Culture, Digital Curriculum Instructional Design, and the New Age Classrooms Model (BLaST's classroom structure model).  Once team's have mapped their thinking, they will create plans, tools, templates and models to ensure success.  To harness the resources of your entire school community, specific sessions will focus on Marketing and Branding your initiative, Technology Systems Mapping and finally, student and program Assessment.
Why does the service span 2-3 years?
Good work takes time.  Between each of the 20 sessions, teams will meet to continue exploring and creating.  For example, your team will explore "Culture and Leadership" during  Sessions 3 and 4.  Throughout and after Session 3, your team will explore the relationship between your Vision and Mission and the culture at your district or school.  You will explore how your culture currently empowers teachers to use digital tools to truly differentiate instruction.  As you continue exploring, the team will prepare for Session 4, a time to craft new practices, policies and procedures to support your desired culture.  How long will that take?  Possibly months.  We hope all schools and districts recognize the value of this work and the time it will take to complete.
Is the service expensive?
IU 17 values team expertise and resourcefulness.  While there are a host of resources available on the topics of blended learning, hybrid learning, flipped classrooms, instructional design, classroom models and online learning, a system's approach is needed to create an actionable plan.  With a finger on the pulse of our districts, IU 17 set pricing for eQUIP New Age Classrooms at an affordable, district-wide rate.  So, if you have one school or three, pricing is the same.  Each session is priced so districts know the total cost over the 2-3 years of work with eQUIP New Age Classrooms.
How do we get started?
When you are ready to transform your school into a New Age Classroom school, contact  Cori Cotner, Director of Educational Planning at BLaST IU 17.