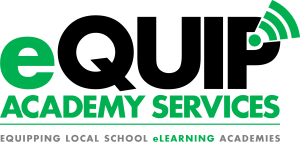 45% of High School students and 47% of Middle School students are interested in taking online courses.  Is your school ready?
eQUIP Academy Services enables your school to launch an in-house eLearning program.  eQUIP provides training, ongoing Professional Learning, K-12 curriculum, a centralized student information system, local support, a laptop loan and maintenance program, conference opportunities, think sessions, local promotional support and community networking with eLearning management peers.
Keep your students in your district.  eQUIP them with eLearning options at home.  Help them walk across your stage at graduation time.  If you're ready to eQUIP your school, contact us today.