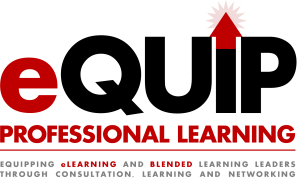 Did college prepare you to work as an eLearning teacher, program manager, paraprofessional, guidance counselor or school administrator?  Most would say, NO!
eQUIP Professional Learning helps you fill the gaps between your college and brick and mortar experiences and your job responsibilities as a K-12 eLearning professional.
eQUIP Professional Learning consultation, learning and networking offerings are derived from our team's first hand experience helping 20+ local schools supporting thousands of students since our launch 6 years ago.  Are you ready to become an eLearning professional?  Contact eQUIP Professional Learning today to get started on your journey.